What is inflation?
Inflation is the term used to describe a rise in prices. As prices rise, people's ability to purchase goods and services (known as purchasing power) falls. How quickly prices rise is called the rate of inflation – it is quoted as a percentage and is measured using price indices.
What causes inflation?

The money supply
If money supply growth is increasing faster than the level of productivity in the economy, price increases are to be expected as there is more money 'searching' for the same quantity of goods and services.

Rising costs
In the event of higher costs for companies (e.g. raw materials), the latter will pass them on through the sales price of their products and/or services paid by consumers (without adjusting their margins).

Demand
When there is excess demand – which usually happens when the economy grows too fast – prices are revised upwards.

Inflation expectations
Inflation tends to be self-perpetuating. "Future inflation will be as important as past inflation". This is the message from central banks when they act to regulate/manage inflation. However, the current measures could jeopardise their credibility.

The currency wars
Currency depreciation makes import prices higher, leading to higher inflation.
What is an inflation-linked bond?
An inflation-linked bond is a bond that follows a price index such as Consumer Price Index (CPI). The inflation-linked bond's principal will adjust in line with the rate of inflation. The coupon will also change as it is a percentage amount of the principal value.
Why invest in inflation-linked bonds?
Inflation erodes the value of capital. It is therefore important to consider the real value (the value after allowing for inflation) rather than the nominal value (before inflation has been calculated) of a bond. As inflation-linked bonds provide a principal and coupon payments that are adjusted by the rate of inflation, they can provide protection against rising prices.
Image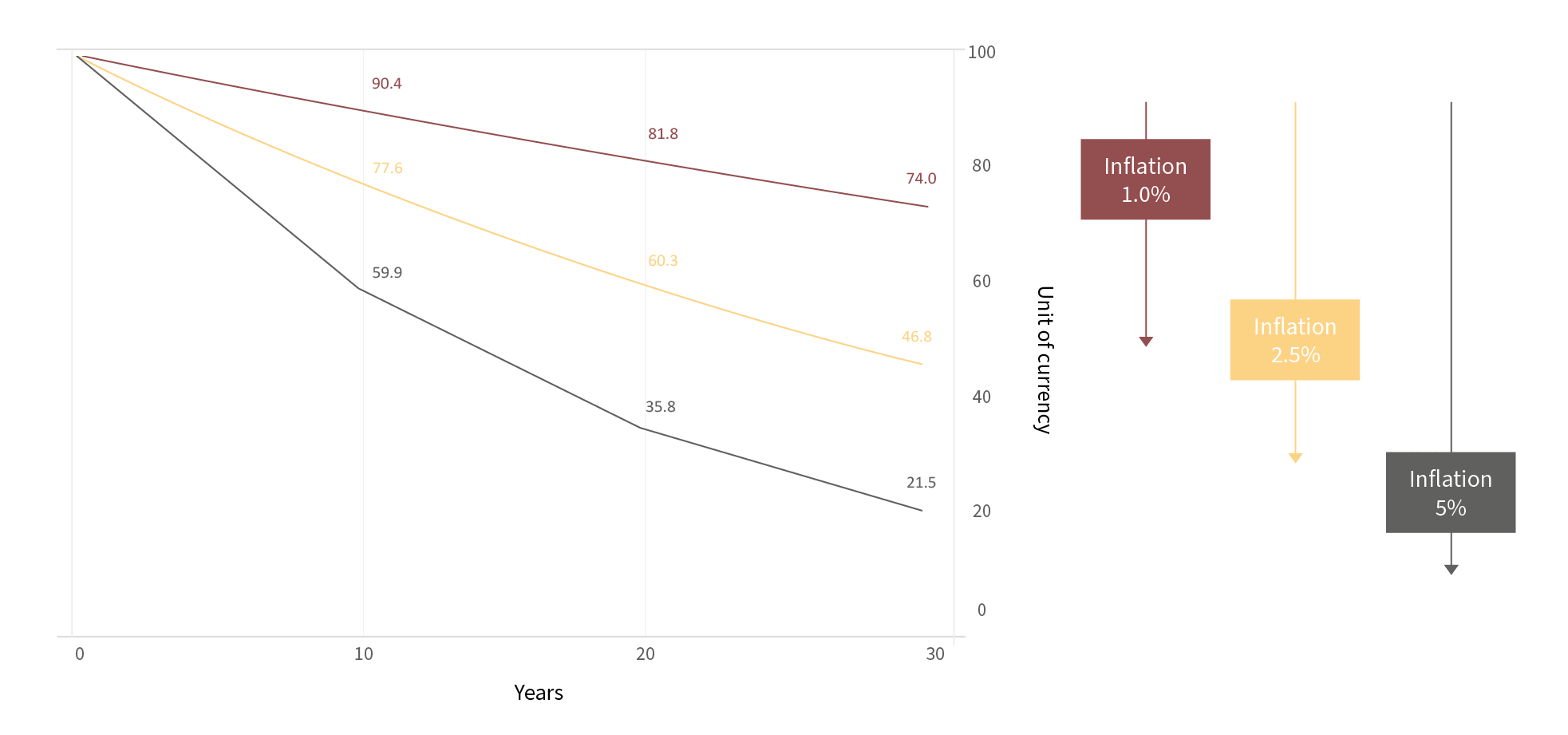 Source: AXA IM – for illustrative purposes only as at 30 June 2022
Getting to grips with inflation
Inflation has been perceived as a complex asset class so, in AXA IM Inflation Series, we want to help make inflation straight-forward to understand for investors. In these four modules, we discuss inflation, what inflation-linked bonds are, the key concepts to know about them as well as how inflation-linked bonds may be used in different market conditions:
An experienced team
Over 30 years of experience as an inflation-linked asset manager. One of the first European managers to offer an inflation-linked bond fund in 1983.
Our size gives us a privileged status in our dealings with counterparties and gives us access to policy makers and market participants.
Recognised expertise
Proven track record over different market cycles.
A range of inflation-linked bond strategies aimed to meet clients' needs.
Innovative ideas
Market leaders in the development of inflation-linked products:
The launch of a total return inflation strategy with a flexible allocation between nominal and inflation-linked bonds.
Pioneer in Environment, Social and Governance (ESG) integration within inflation strategies
At AXA IM, our inflation strategies are active approaches run by a dedicated inflation-linked bond investment team.
We combine our global top-down process with ESG scoring to offer investors inflation solutions that are flexible and can adapt to market conditions.
By providing a dynamic exposure that focus' primarily on inflation-linked bond markets, we believe our strategies offer investors a purist inflation approach.
No assurance can be given that our inflation strategies will be successful. Investors can lose some or all of their capital invested. Our inflation strategies are subject to risks including counterparty risk, operational risk, liquidity risk, credit risk, and the impact of any techniques such as derivatives. The use of such strategies may also involve leverage, which may increase the effect of market movements and may result in significant risk of losses.